It's here! Yay, finally! I mean, no offense to Home Depot, but the shipping took forever. Maybe it's because I just really wanted it...bad.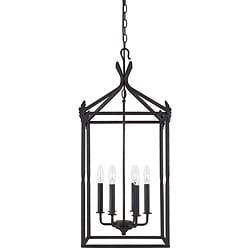 World Imports 6 Light Rust Foyer Light
Remember the nasty light in my staircase? If not, check it out. Anyway, I decided on this lantern from Home Depot, it is available elsewhere but HD had it for the cheapest with free, albeit slow, shipping. I'm impatient did you hear?
I still haven't decided, higher, lower, remove the window treatment? (I bought that on sale when we moved in but don't really have a love for it, but do need the privacy at night. Ya know, the jammies in the stairs situation) How come every time I do a "little project" around here it leads to another "little project?"
I need some advice, so please comment!!!